IOS

Tips Keyboard Shortcuts on IPHONE & IPAD
Posted by Warith Al Maawali on Feb 22, 2015 in Blog | 3 comments

So are you tired of typing out long words, names, web addresses, email addresses, or entire sentences over and over again? Well then, you could save yourself some time and effort and set up keyboard shortcuts for any text that you type regularly. By default, the iPhone and iPad comes with "omw" as a shortcut for "On my way!" but you can create and customize any shortcut you want. What's more, thanks to , any shortcut you create will automatically sync between your iPhone, iPad, and/or Mac. Once you start using keyboard shortcuts you'll love them here's how to do it!
Index:
How to setup Keyboard shortcuts on IOS → Step 1 Go to Settings:
Step 2 Select General: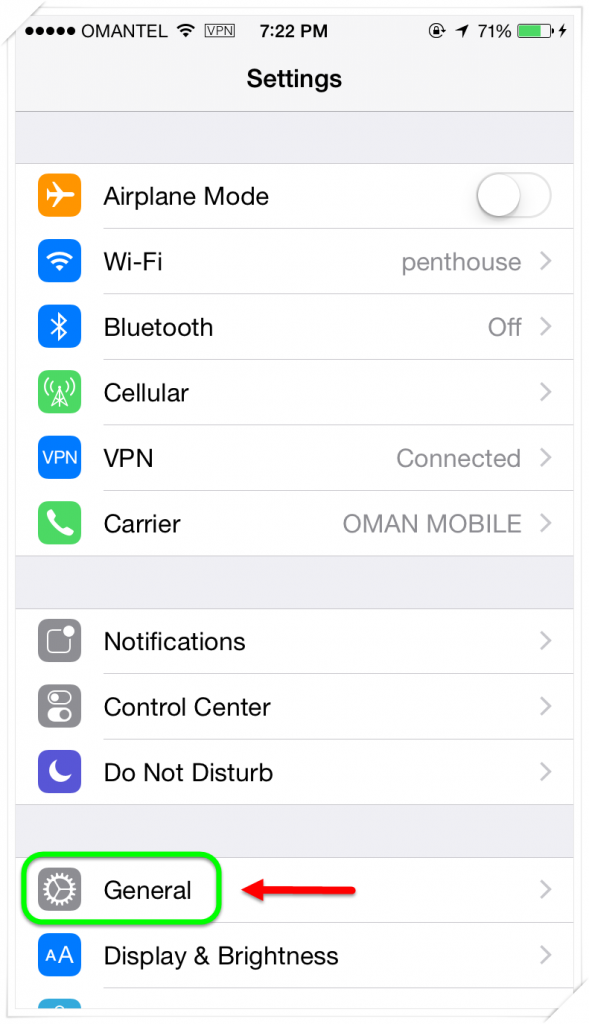 Step 3 Keyboard:
Step 4 Shortcut:
Step 5 Add New Shortcut:
Step 6 Enter your phrase and characters that will produce that phrase when typed then select save: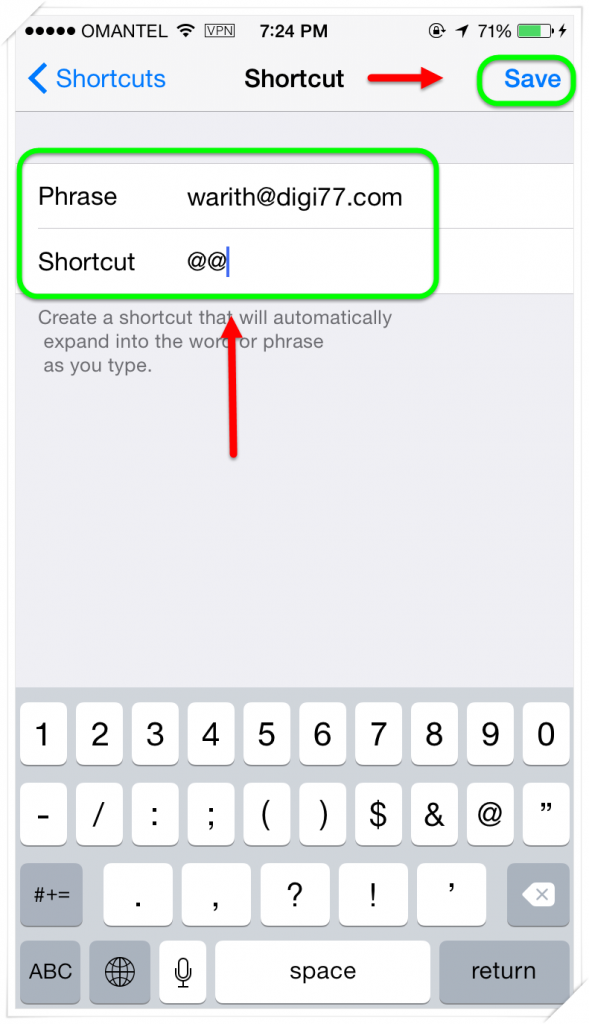 Example:

To use a shortcut just type the text you set up and hit the space key. The shortcut will be replaced by the phrase and you'll be on your way!




You can edit shortcuts by tapping on them. You can delete them by tapping Edit at the down left of the Shortcuts screen, or by swiping from right to left on the shortcut and tapping on Delete.


Videos:
---
More tips:
While typing Double-tap your space bar to add a period at the end of your sentence.
To switch between the numbers and letters keyboards faster by holding down the 123 keyboard key and then sliding your finger to the digit you'd like to select.
To add or other languages to your keyboard Go to Settings → General → Keyboard and tap Keyboards Scroll down and select Emoji or whatever other language you use frequently.
Add Web suffixes when you're entering the last part of a Web address in your browser, hold down the period key instead of tapping it .
Toggle Caps Lock by double-tapping the arrow Shift key on the keyboard.
On iPad, you can split your keyboard in half for easier typing by placing two fingers at the center of the keyboard and pull them away from each other.
Avoid battery lagging by disabling Background App Refresh for certain apps Go to Settings → General → and tap Background App Refresh.
Make easier to talk to Go to Settings → General → Siri > and tap Allow "Hey Siri". The microphone will now listen for you to say "hey Siri" and bring her to life to assist with your audio query. One major caveat, though – you do need to have your phone or tablet plugged into a power source for the voice activation to work .
Block annoying calls you can choose to not receive calls from a specific number or contact by tapping the 'i' button next to that entry in the Recents or Voicemail sections of the Phone app, scrolling down, and choosing Block this Caller .
Monitor what cellular data your apps Go to Settings → Cellular Scroll all the way to the bottom to see data cellular usage and be able to block them .
To mute specific Text message open it up, select the conversation that irks you, tap on details and tap do not disturb to on.
When you double-click the Home button to enter the App Switcher in iOS 8, you'll notice a new row of circles above your open apps. To Disable them Go to Settings → Mail,Contacts,Calendars → Scroll all the way to Contacts then tap on Show in App Switcher and now you can disable them .
Receive audio messages in iOS 8 doesn't mean we want anyone within earshot to hear them. Thankfully, Apple's added a "raise to listen" feature Go to Settings → Messages → Tap on raise to listen that lets you hear and reply just as if you were on a phone call .
You can set messages to expire in 30 days or a year, and put a 2-minute shelf life on audio and video messages. Do it in Settings → Messages.
If you lose your phone (or someone steals it), Find My iPhone will automatically beam the last location to Apple before the battery drains, giving us one more tool to help find it. Turn it on (or off) in Settings → iCloud → Find My iPhone .
iOS now provides support for Chinese, Hebrew and Islamic calendars in the Calendar app. Tap Settings → Mail, Contacts, Calendars → and tap Alternative Calendars .
Create shared lists in Reminders, so multiple people can add items to the list. Open the Reminders app → tap on a list; → now tap on the Edit button and → choose Sharing → Add Person and enter the name of one of your contacts, and then → tap Add .
The Home button on your iPhone gets more insensitive over time and users usually do the next best thing, press harder! One way to salvage the Home button is to use the Assistive Touch button Go to Settings > General → Accessibility → AssistiveTouch → On to turn on AssistiveTouch .
Going into Settings on iOS is like looking for your keys in the dark. While spelunking. It can be maddening, especially if you have a ton of apps but you only want to change one thing, such as how it uses Notifications. Thankfully, in iOS 9, Apple added a speedy little search box. Search on any keyword or app; it provides a series of links to get you to the setting you want .
The iPhone's Achilles' heel for its entire existences has been the battery. It's barely good enough for a full day without a recharge. Thus the intro of a Low Power Mode, though you have to turn it on yourself: Go into Settings > Battery, and it's at the top. When activated, the mode turns off a lot of background functions, like app refresh, automatic downloads, GPS/location services, and many visual effects. It'll check in with you again at 20 percent and 10 percent power. You can tell when it's working because the battery life indicator at the top turns yellowish-orange. Low Power Mode will deactivate when you go back above 80 percent, and thereafter, you need to manually turn it on again if needed .
Before, if you wanted to delete a bunch of photos in the Photos app, you had to click Select and then tap each one. If there's a whole page of photos to delete, click select and drag your finger left/right and up/down across the rows and columns of images. They'll all get the blue check mark to indicate selection.
With Wi-Fi Assist, when an iPhone is in a spot where the Wi-Fi should be strong and clear and wonderful—but isn't—the iPhone automatically falls back to using the cellular data connection. This feature means you'll always get a connection .
If you're surfing the Web with Safari and find a mobile website not to your liking, it's easy to switch to the desktop version. Hold your finger on the refresh icon in the address bar (the circle with the arrow going clockwise) to get the "Request Desktop Site" button .
If you have a reason to turn a website—mobile or desktop—into a PDF, now you can, from within Safari on iOS. Hit the share button, and on the top row on the Share Sheet you'll see Save PDF to iBooks. Once finished, go into the iBooks app to share the PDF .
Do you get a lot of spammy messages via iMessage or SMS text? There's a new feature under Settings > Messages called Filter Unknown Senders. Turn it on, and in the Messages app, you'll now get buttons at the top for "Contacts & SMS"—that's for everyone you know who is listed as a contact—and "Unknown Senders." That way you still get the messages, but they're not part of the regular list. The latter also don't get an alert sounds/vibration when arriving .
Originally, if you asked Siri to place a call, she would—but if you needed it on speaker, you still had to hit a button. Not very hands-free friendly. Now simply add "on speaker" to a request—like "Call Lindsay on speaker"—and Siri will send the call directly to the speaker phone.
---
Copyright protected by Digiprove © 2015-2022 Eagle Eye Digital Solutions
The following two tabs change content below.
Crypto currency , security , coding addicted I am not an expert or a professional I just love & enjoy what I am addicted on🤠
Latest posts by Warith Al Maawali (see all)
an operating system used for mobile devices manufactured by Apple Inc.
iCloud is a cloud storage and cloud computing service from Apple Inc. launched on October 12, 2011.
a small digital image or icon used to express an idea, emotion, etc., in electronic communication.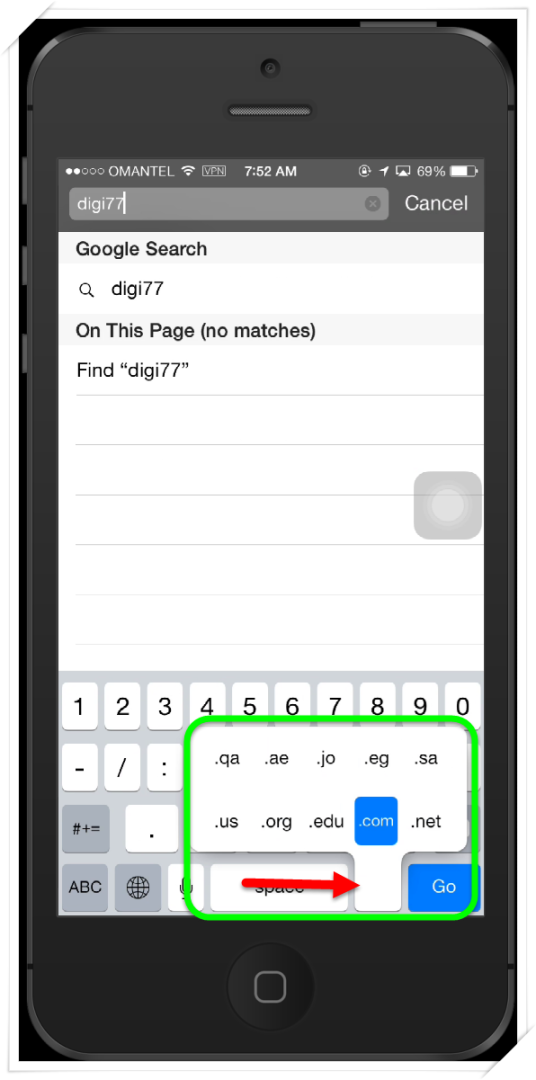 Siri is the intelligent personal assistant that helps you get things done just by asking. It allows you to use your voice to send messages, schedule meetings, place phone calls, and more.